Posts
https://canadagoosegallery.com/wp-content/uploads/2021/07/7ECDCC19-9259-475C-B105-1D7C3713D13E.jpeg
1173
1050
Laura DeRamus
https://canadagoosegallery.com/wp-content/uploads/2017/01/logo-300x74.png
Laura DeRamus
2021-07-02 12:41:03
2021-07-04 06:59:22
Let Art Inspire - Dress Up Your Walls
Visit An Everyday Moment
Browse This Week's Popular Categories
Little Marguerite and Seven Sisters limited edition art prints by P Buckley Moss,
has been printed in honor of all P.E.O. groups across the country
for their work in assisting women in education.

Popular Prints – Cats, Children and Dog Collections.
Popular Prints – Rural Landscape, Lighthouses and Solmate Sock Collections.
Easy Summer Comfort Food
Recipe:
Chicken Primavera Spaghetti Squash Boats
FOR SPAGHETTI SQUASH
1 medium spaghetti squash, halved, seeds removed
1 tbsp. extra-virgin olive oil
Kosher salt
Freshly ground black pepper
FOR PRIMAVERA FILLING + TOPPING
1 tbsp. extra-virgin olive oil
1/2 small red onion, chopped
1 orange bell pepper, chopped.
1 c. grape tomatoes, halved
1 medium zucchini, cut into half moons
2 cloves garlic, minced
1 tsp. lemon zest
Kosher salt
Freshly ground black pepper
1/2 tsp. Italian seasoning
2 1/2 c. cooked shredded chicken
1 c. shredded mozzarella
1/4 c. freshly grated Parmesan
Freshly chopped parsley, for garnish.
Directions:
Preheat oven to 400°. Drizzle cut sides of spaghetti squash with oil and season with salt and pepper. Place cut side down on a large, rimmed baking sheet. Roast until tender, 30 to 35 minutes. Let cool slightly. Using a fork, break up squash strands.
Meanwhile, make primavera filling: In a large skillet over medium heat, heat oil. Add onion and pepper and cook until mostly tender, 3 to 4 minutes, then add tomatoes, zucchini, garlic, and lemon zest. Season with salt, pepper, and Italian seasoning and cook 3 to 4 minutes more. Stir in chicken and remove from heat.
Divide mixture between spaghetti squash halves and stir to combine. Top each spaghetti squash with cheese and return to oven to melt, 5 minutes.
Top with Parmesan and parsley to serve.
What we hear in the Gallery…
When we have events in Waynesville and in our gallery, we always enjoy new people coming in to visit.  This past weekend during our "
Back to the 80's"
event,  a lady stopped by and shared that she was a local resident of Waynesville and one of the things she and her son looked forward to during these past few months, was to take evening walks through downtown Waynesville. They loved checking out the window displays of the shops. She said he son was always so excited to see what art we had placed in our window.  He is just two years old and is already noticing what a difference art makes in life.  I love when people share experiences and glad that we are helping her son appreciate art; loving, growing and experiencing what art can do for our minds and soul.  One of our little visitor's favorite displays was of a very large fish,
Shimmering In The Depths
I thought it was amazing that such a small child looked forward to art. At only two years old, he's already developing an appreciation for art images and looks forward to the joy it adds to everyday life. I thought of the blog from last year about how art is important to children. This blog remains one of our most visited pages of our website.
https://canadagoosegallery.com/wp-content/uploads/2017/02/FullSizeRender-65-e1511267047440.jpg
258
400
Laura DeRamus
https://canadagoosegallery.com/wp-content/uploads/2017/01/logo-300x74.png
Laura DeRamus
2020-08-16 09:48:31
2021-01-08 11:57:33
Flower
Celebrating America & Waynesville, Ohio's 223 Birthday…
Free Raffle Tickets With Purchase
P Buckley Moss American Flag Collection
4th of July Food
Recipe: Salty Peanut and Banana Pudding
INGREDIENTS
1/3 c. all-purpose flour, spooned and leveled
1/4 tsp. fine salt
2/3 c. + 3 tbsp. sugar
1 3/4 c. whole milk
4 lg. egg yolks
1 3/4 c. heavy cream divided
1/3 c. Creamy Peanut Butter
3 tsp. pure vanilla extract, divided
50 vanilla wafers
4 med. ripe bananas, sliced
3/4 c. chopped roasted and salted peanuts, divided
Instructions:
Whisk together flour, salt, and 2/3 cup sugar in medium saucepan. Whisk in milk, egg yolks, and 1/2 cup cream. Cook over medium heat, whisking constantly, until thickened and a pudding like consistency, 7 to 9 minutes. Remove from heat and whisk in peanut butter and 2 teaspoons vanilla.
Arrange 25 wafers (slightly overlapping) in the bottom of an 8-by-8-inch baking pan. Top with half of banana slices, 1/4 cup peanuts. Cover and chill 4 hours or up to overnight.
Whisk remaining 3 tablespoons sugar, 1 1/4 cups cream, and 1 teaspoon vanilla on medium high with an electric mixer just until stiff peaks form, 2 to 3 minutes. Spread over top. Sprinkle with remaining 1/4 cup peanuts.
Raffle Basket Giveaway Fourth of July Weekend
Handcrafted rope basket with embroidery design.
Rose Colored photo Frame.
Bottle of Wine.
2 P Buckley Moss Geese Wine Glasses.
1 Pair of Solmate Socks.
1 Spray Bottle of Maven Hand Sanitizer. (Mint scented).
1 Red, White & Blue Necklace.
$25 Gift Card to Canada Goose Gallery
Win one of 10 different baskets donated by Waynesville Merchants! Earn one free raffle ticket for every $20 spent! Drawing July 5th at 5:00pm.
BONUS: A cash purchase at the gallery between July 1-July 5 will also enter you in a drawing for one of (5) $25 gift certificates to the gallery.
CALL: 513-897-4348
Fourth of July Cake
Too pretty to eat!
Waynesville History Cards
I love that Waynesville has been around for 223 years! So much history and resilience.
https://canadagoosegallery.com/wp-content/uploads/2018/03/ourstrengthbeauty_ad.jpg
1124
1500
Laura DeRamus
https://canadagoosegallery.com/wp-content/uploads/2017/01/logo-300x74.png
Laura DeRamus
2020-07-03 09:46:20
2020-09-18 19:54:25
Let Art Inspire: Newsletter
Address: Spring at Callaway features the Ida Cason Callaway Memorial Chapel at Callaway Gardens in Pine Mountain, Georgia.
Nestled in a serene forest surrounding Falls Creek Lake, the Ida Cason Callaway Memorial Chapel was carefully planned by Cason Callaway himself as a tribute to his mother. Inspired by 16th-century Gothic chapels, it is highlighted by a variety of materials native to its region, including fieldstone quartz. Beautifully crafted stained glass windows depict pines, soft woods and hardwoods, as well as the Southern forest in a progression of seasons. The majestic sounds of the chapel's custom-built Möller pipe organ ring out during seasonal concerts.
Today, the chapel is used for small weddings as well as a Non-Denominational Service each Sunday morning throughout the Summer and during the Christmas season.
"You are my hiding place; you will protect me from trouble
and surround me with songs of deliverance."
Psalm 32:7-8
Figurines Collection
Church Signs
https://canadagoosegallery.com/wp-content/uploads/2017/03/SpringAtCallaway_lg.jpg
336
343
Laura DeRamus
https://canadagoosegallery.com/wp-content/uploads/2017/01/logo-300x74.png
Laura DeRamus
2020-05-22 09:28:38
2020-07-08 08:35:22
Sunday Church - Spring at Callaway Chapel
All of us are beginning to feel the "rock-bottom" reality of a virus that has strangled every country in the world. It feels overwhelming.
My morning process is simple: I worry about my husband, my kids, my friends, and then I think about my fellow Waynesville merchants, and how we have been thrown into a holding pattern we didn't expect, plan for, or even understand!
All of our fun events are now on hold. Our momentum was just beginning to build from the cold of winter into the lovely days of spring. Spring will pass, and then it will be the panic of summer. Hopefully!
I was visited last week by a dear friend; a fellow merchant, and a hardworking man who grew up in Waynesville and raising his family there. He purchased the local grocery store in town, Hometown Market, after working there since he was sixteen and has been serving the area for many years. He has recently refurbished this store, planned out a dedicated sitting area for workers in town that need a place to sit for lunchtime meals that he prepares in the deli area. He serves a variety of breakfast items as well as a balanced assortment of prepared foods for lunch and dinner. It is oh so handy to swing by for a takeout of their homemade soups on the days when I leave the gallery late (and hate to cook after an hour drive home.)
He always seems to look ahead for what people need and how he can better serve their needs, making everyone's life just a little easier. Oh, how I do love that about the Hometown Market! I know that as a small grocer, he and his staff have worked very hard to have shelves filled and the store operating as usual. But these times are not normal times at all! Like every business today, they are having to reinvent how they do day to day business and often have had to search out new suppliers because their regular suppliers are sold out. Ron goes above and beyond by picking up the products they need himself when supplier delivery is overwhelmed.He never wants his customers to wait longer than they need to. I can't even imagine the new nightmare of incorporating different brands into inventory, different pricing, different scans, and then getting all these issues solved promptly while his customers line up outside in hopes of finding food.
I know how frustrating it has been when we are trying to find things we need on the shelves and encounter empty shelves. It is surreal to walk down the aisles and see maybe one box of macaroni and cheese and then nothing!
Grocery workers have to be some of the hardest working people right now. They have taken the challenge and are carrying the weight for all so we have food. Give your grocery workers a big "Thank You" the next time you visit and on your next trip to Waynesville, stop by Hometown Marketplace and let Ron and his staff know you heard what great community supporters they are; then take home a soup of the day carry out!
Despite very long hours and even less sleep, Ron made a special trip to our gallery last week to pick up more of our fundraising History Card sets to sell in his store for the Waynesville Merchants Association. Hometown Market has consistently been our number one history card seller! Ron shrugs it off by telling me how important it is to
support one another; small business is the backbone of our country!  Thank you, Ron, for always thinking about your fellow Waynesville merchants, your customers, and our community. Thank you for supporting all the merchants in your town, and for just being a great person to have in our corner—jolly and all smiles in the good times and so very supportive and helpful in times like these!  Let's all remember that supporting small businesses all over is key to keeping America healthy!
https://canadagoosegallery.com/wp-content/uploads/2020/04/58D3AB59-1CC7-4B0A-8CD1-B367ADCC1BB5.jpeg
1578
1670
Laura DeRamus
https://canadagoosegallery.com/wp-content/uploads/2017/01/logo-300x74.png
Laura DeRamus
2020-04-01 15:46:06
2020-04-02 08:44:06
Lifting Our Spirits Through Gratitude
Spirit of Freedom is a large Giclee print that has garnered extreme interest and popularity with collectors especially those with the wall space to hang this exceptional image. Taken from an original watercolor that once hung in the permanent collection of the P Buckley Moss Museum, the Giclee reproduction process is nearly a perfect recreation of the original. The giclee is a digital process that is produced by a large printer that "spits or sprays" the ink onto the archival paper or canvas recreating both color and texture of the original unlike any other printing process.
Moss' horses are almost always created with flowing lines which is a characteristic of her style and this work is no exception. The flowing main and flaring nostrils indicate the pronounced power of the horse as well as the symbolism of freedom and sensuality. Early in her career during a show, a person asked her why she didn't paint nudes and she pointed to one of her horses and said, "Look at that beautiful horse," to which the gentleman replied, "Touche!"
The soft pastel colors in the background, the indication of landscape in the very minimalist way speak to Pat's artistic training as a professional artist and lends to a visual style like no other. Those who are not aware of this artist often recognize either her horses or her geese even if they don't know who she is!
Spirit of Freedom  |  Issued in 2001 |  Giclee on the finest quality paper
Image Size: 44 x 21-1/4 Inches. Paper Size 46 x 23-1/4 Inches | Edition: 250 and 25 Artist's Proof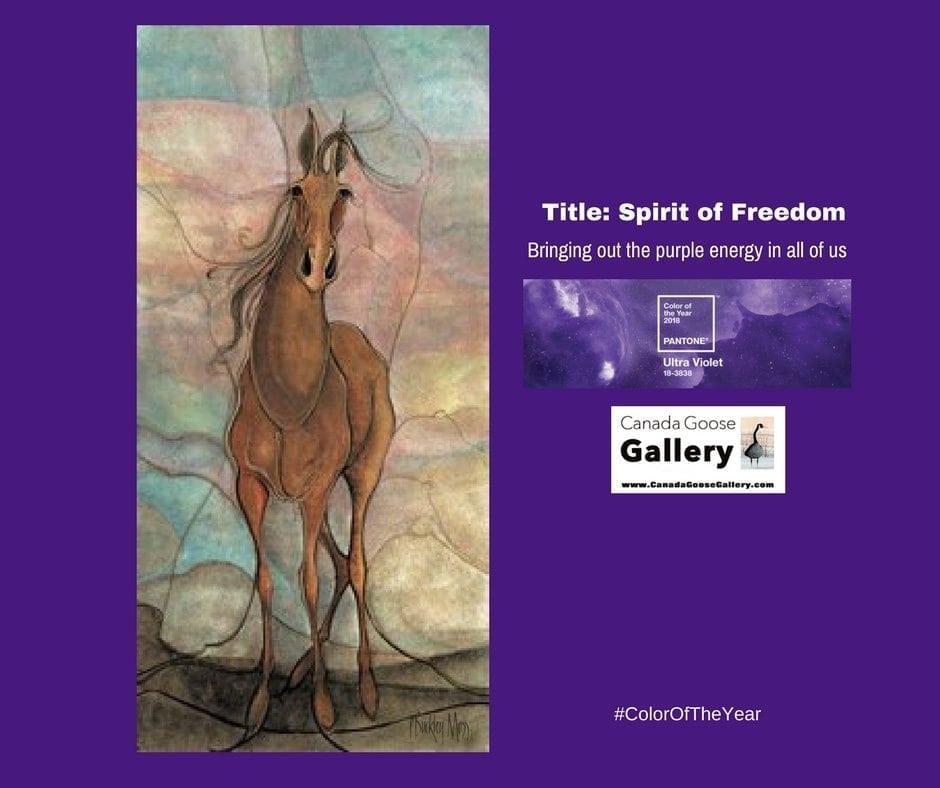 https://canadagoosegallery.com/wp-content/uploads/2017/03/spiritoffreedom_lg.jpg
350
170
Laura DeRamus
https://canadagoosegallery.com/wp-content/uploads/2017/01/logo-300x74.png
Laura DeRamus
2020-03-06 08:39:55
2020-03-06 16:38:51
Spirit of Freedom
On any day in Waynesville, there are visitors that come in the gallery with smiles for the art and curiosity about the treasures inside such a colorful place. One day last week I had a most unusual and delightful visitor who brightened my day and now I hope will brighten yours.
While working at the back of the gallery a young man and his mother walked in and started looking intently at the artwork.  I greeted them and struck up a conversation about the pieces they were looking at together. I was curious about their day in Waynesville and asked how the visit was so far, thinking the boy would come back with a negative response since a day walking around was not anything like video games with friends. To my surprise, his face lit up when I asked about their visit and he said, "This is a great place! I love coming here!" 
Pleasantly surprised, I asked what he liked most about Waynesville. He responded that he loved art, but that he was also excited to visit all the antique stores. Hmmm, I thought.  Here is a ten-year-old boy who loves art and antiques?! 
"So, young man," I said in surprise.  "What do you love about antique stores?"
He thought for a moment and began to tell me how much he loved seeing things from so many years ago.  He loved looking at all the tools, toys, and treasures of an antique store and imagining how they were used and who may have used them.
"Well," I said with a big smile. "It is a rare person indeed who truly appreciates the value of a good antique!" 
Before I could continue, he and his mom started telling me how much they liked so many of the P Buckley Moss prints and originals in the gallery.  They were astounded at the different styles and subjects but as I suspected, the print they were the most excited about was Turquoise Treasure which features a standing cat, with such a playful attitude that happened to be painted turquoise.  But then it wouldn't be a cat if it didn't have an attitude, right? 
I too am a huge fan of our Turquoise Cat.  It is one print almost everyone comments on when they peruse our gallery.  And I just love that old art lovers and younger new ones just love how this wonderfully simple and colorful piece can make you smile, even on the gloomiest of winters days!
They walked around and asked questions about certain pieces that caught their eye.  Before we knew it, they were mindful of the time and wanted to get outside to continue their planned day in town.  Before they left, I asked if he was "On the Hunt" for any antiques in particular and he looks up at me with a big smile and said, "Of course! I collect Pez dispensers." The gleam in his eye brought a smile to my face and we talked about his Pez collection, although he was quick to point out that it was not technically a real collection since he only had about 100 of these candy dispensers. 
OK, only 100?!  I leaned in closer and told him that anytime you have 100 of any one category of items…it would definitely have to be considered a collection!  He smiled and looked up at his mom with pride. But now he had me quite curious.
I asked him more about the tiny candy dispensers and he told me that he would expect to pay around $15 to $25 for one of the old Pez dispensers if he was lucky enough to spot one in any of our antique malls. "The really early ones are worth thousands of dollars," he told me. Who knew? 
Without blinking an eye he said, "My 1979, Tweety Bird!"  
"So," I continued. "What is your absolute favorite Pez dispenser from your collection at home?"
Without blinking an eye he said, "My 1979, Tweety Bird!"  
Of course, it was!  
He made sure to also tell me how much he enjoyed the artwork of P. Buckley Moss.  He and his mom promised to come back when they had a bit more time to learn more about her and all the beautiful artwork.  They both agreed that coming into the gallery was a delightful surprise and a reason they would return again. I made him promise to return with his 1979 Tweety so I could see what I missed from back in the day and made a mental note to keep an eye out for "Pez" dispensers when I get around to cleaning my basement. 
As they headed out the door, I stopped and looked around the gallery.  Through the eyes of a ten-year-old, I was seeing the fun and magic that art brings into our everyday life.  I glanced at the turquoise cat and gave her a wink. There is something for everyone!  
He made my day and I was so very happy they would come to Waynesville to walk around and just enjoy new experiences as a family.  That is what life is all about–exploring, learning, and setting out on a "hunt!"
Art can be so fun!
Canada Goose Gallery
See Turquoise Treasure
See other prints
https://canadagoosegallery.com/wp-content/uploads/2020/02/FED6F6DE-1578-49A6-AC9C-1C1323F4163F.jpeg
640
414
Laura DeRamus
https://canadagoosegallery.com/wp-content/uploads/2017/01/logo-300x74.png
Laura DeRamus
2020-02-09 07:44:19
2020-03-05 05:04:44
A Fun Visitor
It's time to start planning your Run For The Roses gathering! I just love that expression and I love the Kentucky Derby.  All the hats and fancy dresses, tiny finger sandwiches, and of course, the excitement of the race!  I haven't been, but it makes me happy to think of all the fun and excitement of being around horses.  If I had to pick a favorite that Pat Moss paints I would have to say that her horses are some of the most lovely and inspiring images to grace a wall.
https://canadagoosegallery.com/wp-content/uploads/2017/03/Goldie.jpg
640
459
Laura DeRamus
https://canadagoosegallery.com/wp-content/uploads/2017/01/logo-300x74.png
Laura DeRamus
2018-04-25 12:36:36
2020-03-06 18:58:00
Kentucky Derby Red Brings Out the Best in P Buckley Moss Art
Events
Sorry, no posts matched your criteria